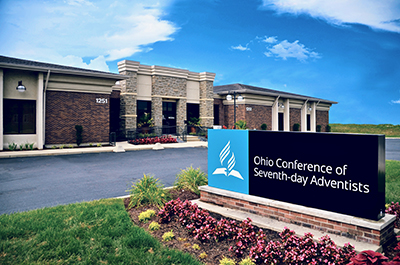 The Ohio Conference community of believers are building God's Kingdom together, exalting the name of Jesus through the Gospel. 
In May 1863, the Ohio Conference of Seventh-day Adventists was formed, shortly after the denomination's official organization. Today, there are 108 congregations and over 13,400 members. There are 11 elementary schools across the state, and one K-12 – Spring Valley Academy – a day academy serving students in southwest Ohio. As well, the conference runs Camp Mohaven, a 640-acre meeting facility in the geographical heart of the state: Danville, Ohio. The campgrounds serve as a hub for collective ministry events bringing thousands of members together every year for camp meetings, retreats, and summer camp programs.
Early in 2021, the Ohio Conference embarked on an ambitious evangelism goal, called the "2023 Initiative." Pastors, conference staff, and the executive committee have rallied around a goal to see 2,023 new members across the territory by the Quinquennium Session of 2023. With fifty percent of this goal achieved by the beginning of 2022, churches across the state are rallying together in mission for the Kingdom! 
Within this faith journey comes an intentional desire to foster communities of belonging for future generations. Partnering with the North American Division's "Growing Young Adventists" (#GYA) initiative, cohorts of Ohio Conference churches are intentionally focusing on creating a church culture that is intergenerational, enabling members of all ages to become stronger together.
Getting in Touch
President: Bob Cundiff, D.Min.
Secretary: Oswaldo Magaña
Treasurer: Roy M. Simpson, M.B.A.
Digital Media & Communication Director: Francis Tuffour
Telephone: (937) 741-0236
Fax: (937) 250-1566
Website: ohioadventist.org